Tuning the Vine #JoziWineRoute is an epic midweek wine tasting adventure including hip
venues and showcasing delicious South African wines and talented winemakers! Every first Wednesday , Tuning the Vine fills 4th Avenue, Parhurst with  happy wine tuners, helpful wine fairies and so much wine loving fun!
Starting time is 6pm and wine tastings end at 9pm. Venues are open till late so you can stay wherever you are and continue to have fun. Ticket sales will close at 7.30pm.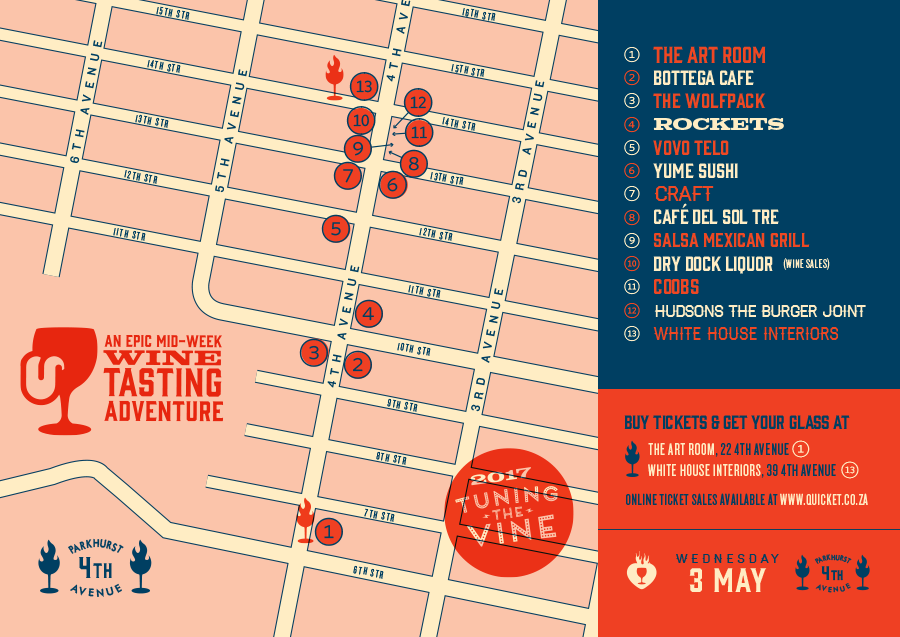 How to Tune the Vine
Gather your best friends and get off to an early start at one of our ticket stations (map on our home page coming soon to show tasting and ticket locations). Show your tickets, or buy some and get your wine tuning kit –  a glass, a wristband and a map –  and off you go.
Walk, dance skip from one venue to the next – in your own time and in your own order.
Discover new places and spaces, fabulous wines and delicious food.
Venues have "food-on-the-go" options for wine tuners on the move – so top up as you work your way along the #JoziWineRoute to make sure that the tummy is well lined for all the wine tasting. So stop along the way, buy something delicious with a glass or a bottle of your favourite wine which you can also purchase from the venue's bar.
Tickets
You can buy tickets at www.quicket.co.za for R250 per person. This ticket price gives you a glass, wristband and map and includes all wine tastings. Food is not included in the ticket price.